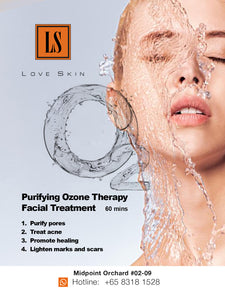 [S190034-60] Purifying Ozone Therapy Facial Treatment
Regular price
$68.00
$0.00
Unit price
per
This is an essential treatment for oily skin with acne; using ozone therapy for healing and anti-bacterial effects. 
Ozone therapy is an innovative beauty treatment to disinfect the skin and improve its overall appearance.  
TREATMENT BENEFITS:
 1. Detoxifies the skin 
Oxygen aids in detoxification at the cellular level. An infusion of enriched oxygen molecules into the skin cleanses the toxins, impurities, and pollutants away and negates the effect of the free radical damage.  
2. Speeds up cell turnover 

The treatment gives a good dose of oxygen to your skin cells which leads to an increased rate of cell production and regeneration. The faster the pace of cell turnover, the quicker the healing process of facial blemishes, wounds, or scars.  
3. Mitigates acne 

Ozone Therapy kills pimple-causing bacteria and at the same time minimizing redness or inflammation. Furthermore, it shrinks the pores which reduce the oil clogging and dirt accumulation in the pores.
 STEPS:
Double cleanse

Ultrasonic face scrubber

Light extraction
Ozone Therapy
Soothing lotion
Head massage
Mask application
Shoulder pressure point
RECOMMENDED FOR:
Acne skin
Clogged pores
Oily skin
Combination skin
DURATION:

TERMS & CONDITION APPLIED:
Voucher is valid for 3 months from the date of purchased.

 

Only valid to the treatment you bought – Strictly NO changing of treatment.
STRICTLY NO extension of time.

 

Treatment duration is 90 minutes. If you reach 15 minutes late, you only have 75 minutes for your treatment. Hence, we advise our customers to be punctual.
Rescheduling of treatment appointment is only allowed 24 hours before your appointment time
Love Skin have the right

 

to forfeit customer's session due to last minute cancellation or no show.
Love skin

 

will not be

 

liable

 

on any wrongly bought treatments or failed to apply promo code
Strictly NO REFUND
---
Share this Product
---