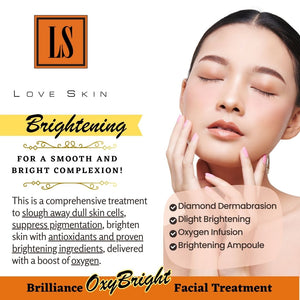 [S190062-90] Brilliance OxyBright Facial Treatment- Embrace a radiant, flawless complexion that exudes confidence and beauty
Regular price
$148.00
$0.00
Unit price
per
Introducing our revolutionary solution for dull and pigmented skin- Brilliance OxyBright Facial Treatment– an all-encompassing treatment that combines the power of microdermabrasion, intense pulse light, oxygen infusion, and brightening ampoules. Experience the remarkable transformation as these cutting-edge techniques work together to restore your skin's natural radiance and achieve a flawlessly even skin tone.
Microdermabrasion:
This non-invasive procedure exfoliates the outermost layer of your skin, gently removing dead cells and revealing a fresh, rejuvenated complexion. By sloughing away dull and discolored skin cells, microdermabrasion helps to reduce the appearance of pigmentation, resulting in a more even skin tone.
Intense Pulse Light (IPL):
Harnessing the power of advanced light technology, IPL targets and minimizes the appearance of pigmented areas. The precise pulses of light penetrate deep into the skin, breaking down excess melanin responsible for discoloration. Over time, IPL promotes a more uniform skin tone, fading dark spots and revealing a brighter, more luminous complexion.
Oxygen Infusion with Brightening Ampoules:
Our treatment incorporates the revitalizing benefits of oxygen to enhance the overall effectiveness of the procedure. The infusion of oxygen-rich molecules promotes improved circulation, delivering vital nutrients to the skin cells and supporting their regeneration. This process aids in reducing dullness and enhancing the skin's natural radiance, resulting in a healthier, more balanced complexion.
Complementing the treatment, our specialized brightening ampoules are infused with potent ingredients that target pigmentation issues directly. These concentrated formulations work synergistically with microdermabrasion, IPL, and oxygen infusion to fade dark spots, even out skin tone, and restore a youthful luminosity to your complexion.
With our comprehensive treatment, you can expect a multi-faceted approach to combat dullness and pigmentation. Say goodbye to uneven skin tone and embrace a radiant, flawless complexion that exudes confidence and beauty.
RECOMMENDED FOR:
Dry skin
Dehydrated skin
Dull and lackluster skin

Rough texture
DURATION:
 TERMS & CONDITIONS:
Your Voucher Details:
Your voucher is valid for a period of 3 months from the date of purchase. Please note that it can only be used for the specific treatment you have purchased. We kindly request no changes to the treatment. In certain cases, our aestheticians may advise alternative options based on your needs.
Time Management:

 

To ensure you receive the full treatment,

 

please arrive on time. This gives you ample time to enjoy your chosen treatment. The treatment duration is 75 minutes. If you are running 15 minutes late, please be aware that your treatment will be adjusted to 60 minutes.
Rescheduling Appointments:
We understand that plans can change. If you need to reschedule your treatment appointment, we kindly request that you

 

notify us at least 24 hours

 

in advance.


Cancellation Policy:
We kindly request that you give us sufficient notice;

 

at least 24 hours

 

or more for any changes or cancellations.

 

Last-minute cancellations or no-shows may result in the forfeiture of your session.

We strive to accommodate all our customers and maintain a smooth schedule. However, last-minute cancellations or no-shows can disrupt our operations.


Purchases and Promotions:
Please review your selected treatments carefully before purchasing, as we cannot provide refunds for wrongly bought treatments or failed discount code applications.


Refund Policy:
To maintain fairness and consistency, Love Skin has a strict

 

no-refund policy.

 

We encourage you to reach out to our team if you have any concerns or questions before making a purchase.


Our Commitment:
We strive to provide a positive and enjoyable experience at Love Skin. If you have any concerns or questions, please don't hesitate to reach out to us.

We appreciate your understanding and cooperation.
---
Share this Product
---