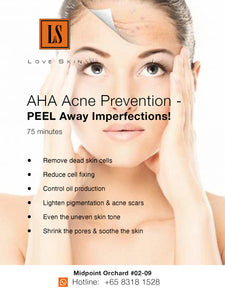 [S190009-75] AHA Acne Prevention Facial Treatment - PEEL Away Imperfections!
Regular price
$88.00
$0.00
Unit price
per
BENEFITS of AHA Acne Prevention Facial Treatment:
Removes Dead Skin Cells
Alpha Hydroxy Acid for skin works as an exfoliating agent and removes dead cells from your skin and helps you get rid of the dark cells from the top layers of your skin.


Reduces Cell Fixing
It is found that the acid minimizes cell adhesion or gluing on the top surface of your skin.Thus, Alpha hydroxy acid is used for a wrinkle-free and younger looking skin!


Protects The Skin From Sun Damage
Your skin can be the victim of sun damage, blemish and other issues, resulting in hyper pigmentation and patches on the skin. Though, a flesh-toned cosmetic stick can disguise the patch mark on your skin, but for long term treatment, you can opt for AHA treatment.


Assists Assimilation
The exterior layers of dull and dead skin cells hamper the ability of your skin to absorb the important components like serums and creams. AHAs detach these layers to uncover the primary cells, helping your skin assimilate the goodness of your beauty regimen better!


Prevents Skin Damage
AHAs help to heal the damaged skin surface and help the growth of new cells. AHAs also help to increase the production of collagen in your body, preventing skin damage!


Increases Blood Flow To The Skin
Using AHAs increase the blood flow to your skin and help you to get rid of wrinkles and crumples. The result—natural and bright skin tone!


Gives A Fresh Look
Looking fresh is not just about sleeping well! A dull skin can never look fresh. One of the most important benefits of AHA is its ability to reduce dark spots on your skin, minimize blackheads and acne. With these gone, your skin will automatically look fresher!


Lastly, Cryo

 

therapy with purifying ampule helps to shrink the pores, and soothe the skin. The purifying ampule

 works in synergy with cyro therapy to shrink enlarged pores, softens and dissolves blackhead, whiteheads and clears clogged pores. It also reduces the excess oil and stabilizes the skin pH level.
STEPS:
Double cleanse
AHA peel
Light extraction
Soothing lotion
Cryo therapy with purifying ampoule
Face & head massage
Mask application
Shoulder pressure point
 RECOMMENDED FOR:
Oily & acne prone skin
Congested skin
DURATION:
TERMS & CONDITIONS APPLIED:
Voucher is valid for 3 months from the date of purchased. Only valid to the treatment you bought – Strictly NO changing of treatment
STRICTLY NO extension of time. Treatment duration is 75 minutes. If you reach 15 minutes late, you only have 60 minutes for your treatment. Hence, we advise our customers to be punctual
Rescheduling of treatment appointment is only allowed 24 hours before your appointment time
Love Skin have the right to forfeit customer's session due to last minute cancellation or no show
Love skin will not be liable on any wrongly bought treatments or failed to apply promo code
Strictly NO REFUND
---
Share this Product
---