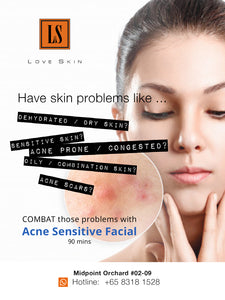 [S190010-90] Acne Sensitive Facial Treatment - Combat STUBBORN Acne in a Gentle Way!
Regular price
$148.00
$0.00
Unit price
per
A complex facial treatment is designed to tackle stubborn acne. This treatment uses oxy peel, pulse light and oxy spray with purifying ampule.
Oxy peel works by imparting oxygen and sodium chloride into basal layer of the skin, allowing the skin to regenerate. It also dislodges damaged skin cells, essentially exfoliating the skin, whilst also helping to control skin's sebum production 


While

 

Pulse light therapy is rapidly becoming recognized as a FAST, SAFE and HIGHLY EFFECTIVE solution for those suffering from mild to severe inflammatory acne. It uses a specific spectrum of light that targets the bacteria that actually causes acne.

The Anti-Acne light decrease proliferation of acne-causing bacteria, and may also affect the sebaceous gland from over-production of oil and promote healing of the skin after acne breakouts. Besides clearing up pustules and active inflammation, pulse light therapy has the

 

added benefit of improving the appearance of facial scarring.


Lastly, Oxy spray with purifying ampule helps to shrink the pores, and soothe the skin. The purifying ampule

 works in synergy with oxy spray to shrink enlarged pores, softens and dissolves blackhead, whiteheads and clears clogged pores. It also reduces the excess oil and stabilizes the skin pH level.
STEPS:
Double cleanse
Oxy peel
Light extraction
Soothing lotion
Pulse light treatment
Oxy spray with purifying ampoule
Head massage
Mask application
Shoulder pressure point
RECOMMENDED FOR:
Sensitive / Hyper sensitive acne prone skin
Congested pores
Oily skin
Combination skin
DURATION:
TERMS & CONDITIONS APPLIED:
Voucher is valid for 3 months from the date of purchased. Only valid to the treatment you bought – Strictly NO changing of treatment
STRICTLY NO extension of time.

 

Treatment duration is 90 minutes. If you reach 15 minutes late, you only have 75 minutes for your treatment. Hence, we advise our customers to be punctual
Rescheduling of treatment appointment is only allowed 24 hours before your appointment time
Love Skin have the right

 

to forfeit customer's session due to last minute cancellation or no show
Love skin

 

will not be

 

liable

 

on any wrongly bought treatments or failed to apply promo code
Strictly NO REFUND
---
Share this Product
---