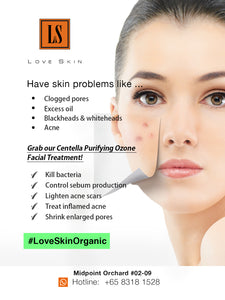 [S190025-60] Centella Purifying Ozone Facial Treatment - Treat Inflamed Acne, Shrink Enlarged Pores, Kill Bacteria, Control Sebum Production
Regular price
$88.00
$0.00
Unit price
per
Centella Purifying Ozone Facial Treatment promotes a natural cleansing and antibacterial action that helps treat existing acne and prevents the onset of new acne.
It is a well-known rejuvenating treatment. It's been proven to stimulate cell renewal and improve skin care product penetration and absorption by gently warming and oxygenating the tissues of the skin.
The skin is left feeling instantly energized, rosy, firm, refreshed and noticeably softer - even after just one treatment. The enriched oxygen molecules produced by high frequency machines are safe and have been proven to be effective in helping to heal and restore the skin's health.
This treatment is GREAT to treat excess oil production, blackheads whiteheads, acne, congested / clogged pores and enlarged pores.
and with 15 AMAZING SKIN BENEFITS OF CENTELLA ASIATICA
Boosts the production of fibronectin,

 

collagen

 

and stimulates fibroblast proliferation, for tighter, firmer skin and connective tissue
Protects elastin and hyaluronic acid from breakdown, thereby protecting skin elasticity, health and hydration
Fights skin ageing and wrinkles, due to this combined actions on collagen, elastin and hyaluronic acid
Treats burns
Accelerates wound healing
Repairs skin and blood vessels
Protects blood vessel walls and repairs leaky capillaries, thereby improving

 

water retention
Protects from sun damage
Treats hyper pigmentation
Reduces skin dryness
Has anti-inflammatory properties
Is a powerful

 

antioxidant
Treats

 

fat tissue inflammation
Prevents vitiligo by protecting melanin cells from oxidative damage
Improves the skin's protective barrier function, thereby also boosting skin hydration
Witness the result after 1 session! Skin is smoother, clear, radiance, and reduce in pore size!

The next thing you should be able to tell is how this treatment helps to control oil production, thus eliminate the appearance of blackheads and whiteheads. It also stabilize the skin pH, therefore prevent new formation of acne!
STEPS:
Double cleanse

Ultrasonic face scrubber

Light extraction
Hi Frequency therapy
Spray 100% Centella Asiatica Extract
Face pressure point massage
Head massage
Mask Application
Shoulder pressure point
RECOMMENDED FOR:
Clogged / congested pores
Anti-acne
Excess oil
Oily & combination skin
Acne prone skin
DURATION:
TERMS & CONDITIONS APPLIED:
Voucher is valid for 3 months from the date of purchased.

 

Only valid to the treatment you bought – Strictly NO changing of treatment
STRICTLY NO extension of time.

 

Treatment duration is 60 minutes. If you reach 15 minutes late, you only have 45 minutes for your treatment. Hence, we advise our customers to be punctual
Rescheduling of treatment appointment is only allowed 24 hours before your appointment time
Love Skin have the right

 

to forfeit customer's session due to last minute cancellation or no show
Love skin

 

will not be

 

liable

 

on any wrongly bought treatments or failed to apply promo code
---
Share this Product
---